Simplified payroll
for your business
This intuitive HR & Payroll software solution in the cloud will transform the way you connect with your workforce, enabling a highly productive environment that is secure and 100% legislatively compliant.
It's suited to an unlimited number of employees across multiple companies and countries, and can be accessed anywhere, anytime.
Get Started
Worry Less
Automated updates ensure your business is always compliant with statutory requirements.
This helps you mitigate risk and avoid penalties for not filing on time or calculating statutory values incorrectly.
Take the tour
Work Smarter
Be more productive by streamlining key business and payroll processes that reduce manual tasks, eliminate errors and save you time every week.
Take the tour
Work Easier
Enjoy the benefits of flexibility and automation in the cloud, allowing you to work anywhere, anytime.
Take the tour
Integrated add-on modules
No matter how fast your busines grows, our modular system can be adapted to meet any requirement.
Take the tour
Simplified migration process
We've made it easy for existing customers to securely move their data to the cloud, complemented by a familiar user interface.
Take the tour
Worry Less
Ease of use
Our intuitive design makes it easy for you to find and use the features you need to streamline payroll processing, simplify monthly reporting and much more.
Secure cloud environment
Data is kept securely in the cloud, supported by automated updates and key payroll processes for accuracy.

Work Smarter
Personnel Management
Provides a single source of truth so you can ensure employee information is accurate and up-to-date.
This ranges from personal details and remuneration to a host of other features such as disciplinary notices and grievances, records of training attended, qualifications achieved and much more.
Leave Management
Alleviate the burden of manual leave processing with features that allow you to simplify leave administration and enforce company-specific leave policies.
Seamless integration with existing payroll fields eliminate the potential for double entries.
General Ledger
Benefits you by saving you time when balancing salaries and allows you to reconcile all costs according to account codes and cost centres.
User-friendly reporting
Harness the power of our report-writing tool which includes standard templates, country-specific statutory reports or customised reports developed for your unique needs.
Password protection and a variety of formats (on-screen, print-ready, downloadable PDF, Ascii) ensure security and ease of use.
Job Costing
Allows users to allocate any labour related costs to projects by different departments or business units.

Work Easier
Streamline your processes
With anytime, anywhere access and less administration, you will save on the time it takes to run your payroll.
You can also allow Branch Managers to capture payroll input and distribute final reports via email.
Access Control
Enforce stringent, internationally accepted standards for access control to authenticate users.
This means you can view an audit trail at any time and ensure your data is always protected.
Compliance Reporting
Quick access to information on legislation, policies, procedures and codes of good practice regulating your payroll and HR environment.

Integrated add-on modules
Self-Service
A paperless process for managers and employees that makes it easy to manage leave, claims and maintain accurate employee information.
InfoSlips
Give your employees secure access to their monthly payslips in an interactive, easy-to-read format.
Employees can view their earnings, deductions and company contributions while tracking the status of their annual leave.
Sage Pay*
Sage Pay ensures that salaries get paid on time, every-time, with access to a wide range of payment solutions designed to improve business processes and reduce costs.
*Available in South Africa only

Simplified migration process
Worry-free Migration
A user-friendly migration process makes it easy for you to securely move your data to the cloud.
Easy to navigate
Our recognisable user interface has been perfected from years of industry experience, and has been designed to be engaging and easy to use.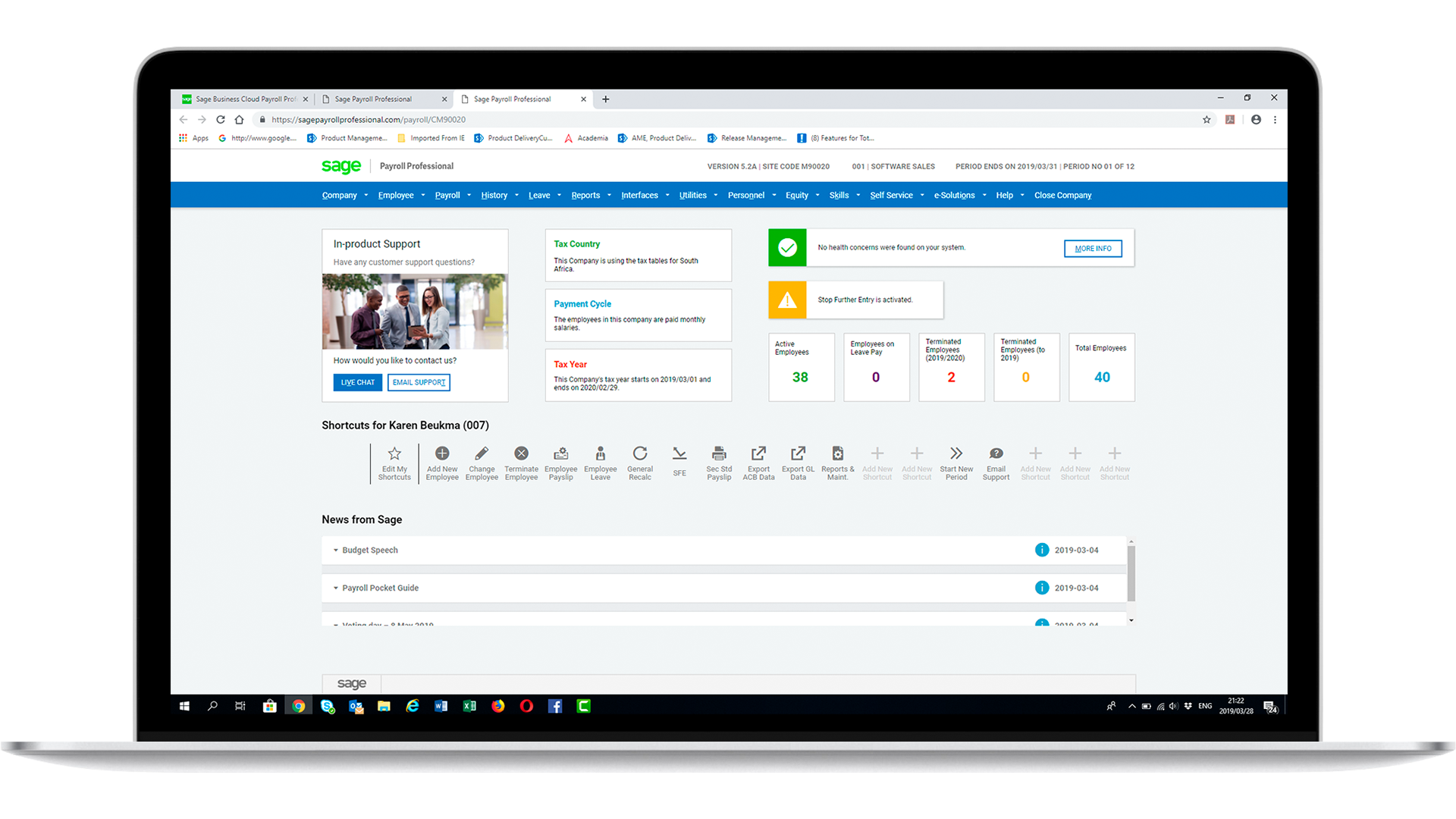 Are you ready to put
Sage Business Cloud
Payroll Professional to the test?
Take the next step and experience the difference Sage Business Cloud Payroll Professional can make to your business.
Explore more features
Request a quote