Pay your people, worry free
Sage Business Cloud Payroll is an intuitive online payroll product for start-ups and small business. It provides businesses with powerful, simple and flexible ways to pay employees and stay compliant with legislation.
Over 28 million people worldwide are paid by Sage Payroll.
Get Started
We keep you compliant
Sage Payroll is automatically updated with the latest SARS legislation, you don't have to worry about it. And, you can submit your PAYE and IRP5s to SARS in just a click. Keeping compliant really is that easy.
Take the tour
No experience needed
You don't have to be a payroll expert to use our software, it's super easy. Plus we're on hand with phone and email support, and web chat too. Our experts are ready to help.
Take the tour
Secure and accurate payslips and reports
Absence, attachments, bonuses, expenses, holiday pay, hourly payments, overtime, PAYE, pensions, salaries – now you can do it all, with confidence.
Take the tour
Process payroll wherever and whenever
Access your payroll from any PC and laptop giving you freedom and peace of mind knowing you can process payroll even while away from the office.
Take the tour
Simplified migration process
We've made it easy for existing customers to securely move their data to the cloud, complemented by a familiar user interface.
Take the tour
We keep you compliant
Generate SARS submissions
Generate Tax Year End of Mid-Year submission, report and certificate as well as the file that you can submit via @easyFile.

No experience needed
Dashboard
Get a quick view of your employee and company data such as number of employees active and terminated, pay cycle status and birthdays when you log in.
Guided tour and getting started
Take a tour of Sage Payroll or take a look at the getting started infographic for easy steps on how to use the software.
Simple design
Sage Payroll is straight forward to use; no frills and no fuss!

Secure and accurate payslips and reports
Automatic calculations
Enter hourly pay, salaries and ther employee data and we'll handle calculations such as PAYE and UIF.
Real time calculations
Payslip values are always calculated "real-time", ensuring that you are always looking at the "final" correct value.

No more time-consuming tasks
Accounting integration
Sage Payroll transactions can be automatically posted to Sage Accounting journals.
UIF declaration
The UIF file can be submitted within Sage Payroll. The file is emailed to the Department of Labour, and proof of it is also emailed to you.

Process payroll wherever and whenever
Access Sage Payroll from an Internet Browser
To be able to log in, process payroll and gain insights into your workforce, all you need is a computer and internet connection. You simply log in through an internet browser like Chrome or Internet Explorer and get going.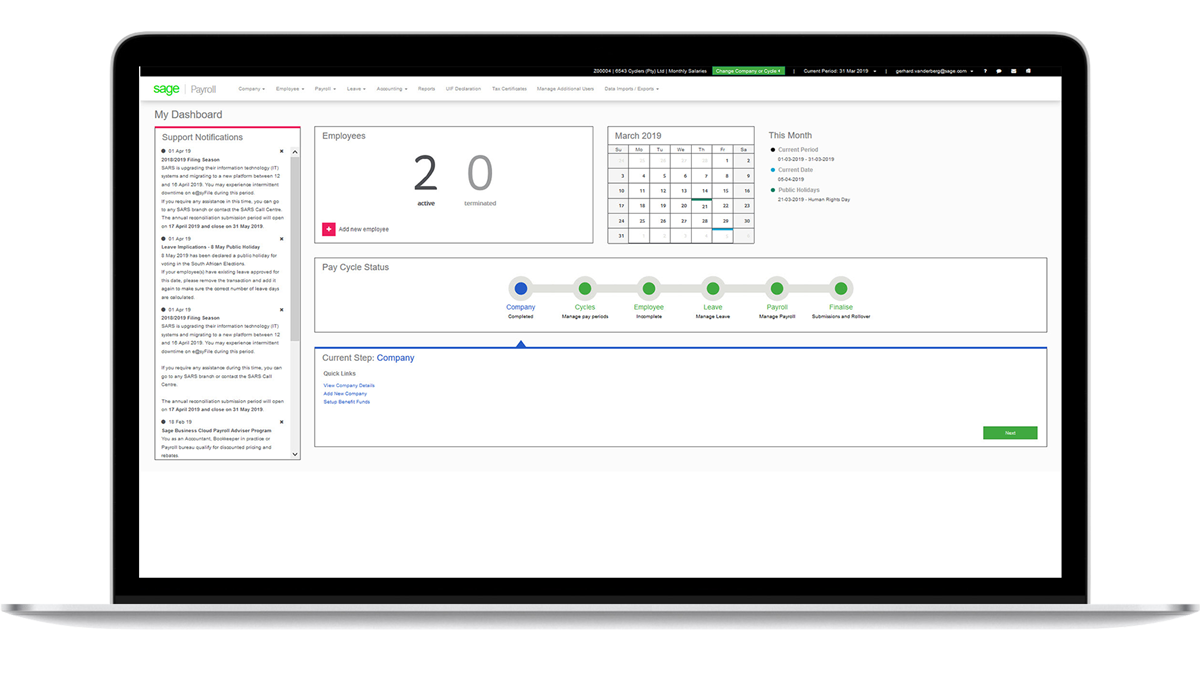 Are you ready to put Sage
Business Cloud Payroll to
the test?
Take the next step to get in touch with us to experience the difference Sage Business Cloud Payroll can make to your business.
Explore more features
Sign up for a Free Trial