Unlock a new level of productivity and control.
Your success is down to one thing - your edge. It's what got you here today and its driving your ambition. Now what about the next level? Sage 200cloud gives you unprecedented control of all your business' key operations, empowering you to keep your edge and drive forward at pace.
Get Started
Save time. Do more.
Ensure you're using your time as effectively as possible, let Sage 200cloud do some of the work for you. Cut through inefficiency and keep your edge sharp.
Take the tour
Be ready for anything.
You want to seize every opportunity - but keep on top of processes and compliance as you move forward. Sage 200cloud enables you to adapt to new requirements, take costs out the business, and service customers better and faster as you scale up.
Take the tour
Access the information you need quickly and easily.
Great things happen when your key customer information is always at your fingertips. Sage 200cloud makes it easy to access all the information you need to make decisions fast.
Take the tour
Help teams collaborate with ease.
As your business grows, your people will probably need to work further apart. You need a solution that will keep them on the same page. With Microsoft Office 365® connected to Sage 200cloud, teams can work collaboratively and productively from anywhere.
Take the tour
Save time. Do more.
Streamline sales processes
Create sales based on customer preferences. Enable easy cross-selling. Generate orders from items in your history. All using just one platform.
Increase your order value with
cross-selling built in
You can use cross-selling items to suggest items which complement the customer's purchases, increasing order value and customer retention. Features include enabling users to cross-sell related products, create sales based on a customers preferred/favourite items, create orders from items in history, and create customer-specific memos.
Access business data from anywhere
Get secure cloud and mobile access to business data. view customer information documents via Outlook. Your business is right there on the screen whenever and wherever you want it.
Attach documents to purchase invoices
Scan and attach purchase invoices to their associated transactions. You scan images directly, either using a scanner connected to your PC or your network.
Connect your bank account for complete cashflow control
No more re-keying data. Bank transactions effortlessly flow into Sage 200cloud and are automatically matched to your invoices. This cuts the tedious task out of re-keying data with the automatic pairing of transactions.

Be ready for anything.
Manage multiple currencies
Keep your exchange rates up-to-date and easily place and pay for orders with suppliers who work in foreign currencies. With Sage 200cloud, you can also revalue your foreign bank account supplier and customer account balances to reflect true value at any time.
Embrace online payment systems & get paid
Put a simple 'pay now' button on invoices and make it easy for customers to pay with PayPal or Stripe. You can also get paid and manage Direct Debit payments via GoCardless.
Make compliance easy
Stay compliant with regulatory requirements like GDPR. Sage 200cloud enables you to update and delete records easily, identify older data, and store files securely on OneDrive. And get ready for Making Tax Digital – with a solution which enables you to comply with the new HMRC VAT legislation.
See the insights that will keep you on track
Build and filter detailed reports and dashboards by region, sales representative, industry type, customer rating, account manager, partner and much more. Get the insights you need to drive efficiency, increase profits, and speed up growth.

Access the information you need quickly and easily.
Connect and work anywhere
Connect when you're on the move and make more informed business decisions. Using the web app and Office 365® integration, you can accurately keep track of finances and act on opportunities fast.
Customise to your needs
Pick and choose the modules you need to manage stock, projects, manufacturing processes, customers (CRM) or payments. Sage 200cloud gives you the flexibility to adapt quickly to the needs of your business as it changes and grows.
View customer and supplier information within Outlook
Access critical customer account information without having to leave Outlook. The Sage Contact App enables you to view customer and supplier record in one place without switching between applications. You can also update contact details from within Outlook and sync the changes to your Sage software.
Simplify your account view
Hide nominal accounts, bank accounts, and combined budgets that you don't view regularly. When you do need them, you can easily add them back into view.
Make managing transactions as simple as texting a friend
With Pegg the smart digital assistant you can view your customer details and transactions easily whenever and wherever you need.

Help teams collaborate with ease.
Store data securely online
Make secure online storage easy with Microsoft and Office 365®. Save and share documents easily using OneDrive for Business®. You can also use SharePoint Online® for collaborating on files.
Manage data sharing with workspaces
Use configurable role-based workspaces to share insight. Maintain control over anything sensitive with different levels of admin rights.
Communicate easily with Skype for Business
Keep in touch with customers or suppliers easily using Skype for Business. Launch messaging and voice or video calls directly from within the software. Communications work seamlessly whether you are in or out of the office.
Surface the data available across your business
Create dashboards that are relevant to individuals, teams, and their specific roles. Workspaces lets you find the information you need and present it in customizable views for different departments and members of staff. These reports can be tailored to meet the needs of individual user – regardless of their level or function within the business.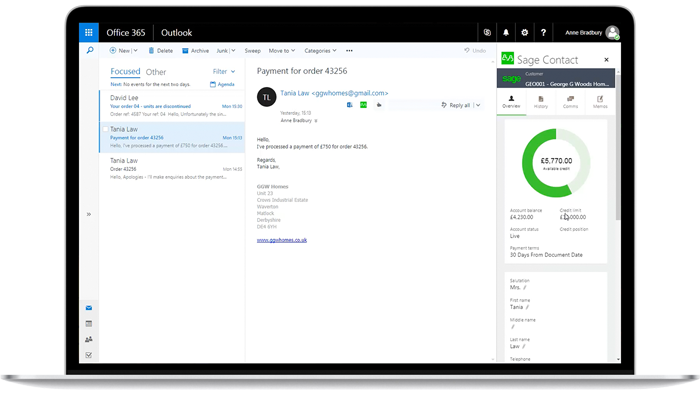 Are you ready to put
200cloud to the test?
Take the next step and get in touch with us to experience the difference Sage 200cloud can make to your business.
Explore more features