Upgrading ERP? Achieve consensus with the right people within your organisation.
One of the biggest challenges in upgrading ERP is coming away with a solution that's easy to implement and helps you drive business immediately.
If you're mobilising technology change within your organisation, you'll need help in understanding the people in your business and getting their consensus.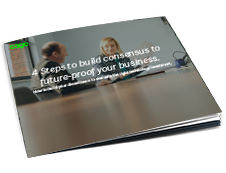 Get the advice you need by downloading our new eBook '4 Steps to build consensus to future-proof your business'.
Find out which key stakeholders you need to be part of your technology purchasing dream team, and what their priorities are.
Understand the ways you can connect your stakeholders, by finding the unifying business goals which are common to everybody.