Thanks for your interest in Sage Financials.
A member of our team will be in touch soon to get you set up.
In the meantime, visit our website to learn more about Sage Financials.
Discover financial management that goes above and beyond.
Managing finances and performing accounting are critical to your business operations. But what if your financial management solution could help you do more?
Sage Business Cloud Financials was built to help your company gain a complete financial picture, make confident business decisions and enable your teams to focus on driving your business.
Take the tour
Lacking data visibility? Questions about cash flow and invoices?
Business is always changing. You need to quickly understand performance against KPIs and overall trends. Stop wasting your time consolidating data and building reports and start giving stakeholders the insight they need to move forward.
Take the tour
Growing pains?
A growing business means more financial transactions—from numerous credit cards and general ledgers to multiple payroll and bank accounts. Keeping tabs on the details is tough. To further complicate things, you're likely using more than one solution to see different data points.
Take the tour
Sacrificing productivity due to
administrative tasks?
Every manual task prevents your team from focusing on what's most important—driving business forward. Get out from under the daunting administrative tasks and discover all sorts of new opportunities.
Take the tour
Operational silos holding you back?
Your teams are misaligned. You have to consult at least 5 people to get a somewhat complete picture of a customer or vendor, and it seems no two people are focused on the same customer or business problem. It's time for change.
Take the tour
Do you know if your financials are compliant?
Getting the information you need to speak confidently about the status of your business and knowing whether every location is fully compliant is imperative. Which is why you need a solution from a vendor who's willing to work through the details.
Take the tour
Quickly gain insight into customers and critical business functions.
Company dashboards with company performance KPIs
Gauge how business is performing against the KPIs that matter to you with customised dashboards.
DISCOVER
Powerful, predictive analytics for business performance snapshots and trend evaluation.
SHARE
Easily convert dashboards into presentations and share them.
NOTIFY
Create alerts that send notifications about your business performance against KPIs.
REPORTS
Build customised financial reports based on the various segments, or dimensions, of your business.

Scale without complexity using our accounting software.
DIMENSIONS
Manage your General Ledger according to how you view your various business segments—department, project or customer—with multi-dimensional tagging and tracking.
SINGLE VIEW
Gain a single view of your entire business by consolidating different companies, locations and general ledgers—regardless of how they operate.
SCHEDULE
Easily schedule and track recurring invoices and recognise revenue accordingly with advanced subscription management.
CURRENCIES
Enter invoices and display currency lists with multi-country legislation requirements and multi-currency capabilities.

Increase efficiency and productivity.
PRODUCTIVITY
Run your team efficiently with productivity features that enable you to manage the day-to-day activities of your transactional team.
TRACK TASKS
Evolve beyond the inbox to track tasks and events for customers, projects and more.
SEAMLESS
No rekeying of customer and financial data. Add contacts from your phone or seamlessly integrate contacts from your Salesforce Sales Cloud.
INVOICES
Generate invoices and accept customer payment before you leave a customer site. Recognise revenue sooner.
UP-TO-DATE SALES
Now your field and sales teams will know what's in stock as they're generating orders and can drive sales accordingly.

Collaborate with teams from anywhere.
VIEW
Align transactional and customer views so you can see upcoming opportunities or outstanding invoices.
CHATTER
Use Chatter to stay connected to a customer account so you know when a project is ready to be invoiced.
KPI DASHBOARD
Align your teams on the KPIs that matter most so everyone understands performance and can have proactive conversations about how to meet goals.
CAPACITY
Evaluate team capacity, work in progress, and jobs that need to be started.
COLLABORATE
Collaborate on and update sales invoices from anywhere in real time.

Gain financial certainty to help grow your business.
STREAMLINE
Eliminate human error through limited manual data entry.
GLOBAL
Get ahead using multiple-country templates with built-in local legislation requirements.
REPORTS
Easily create financial reports for your accountant, financial advisors or board so you can spot issues and have proactive discussions.
CHATTER
Build audit trails with Chatter to keep detailed documentation on company and customer transactions.
COMMUNITY
Partner with confidence to help meet your full business goals.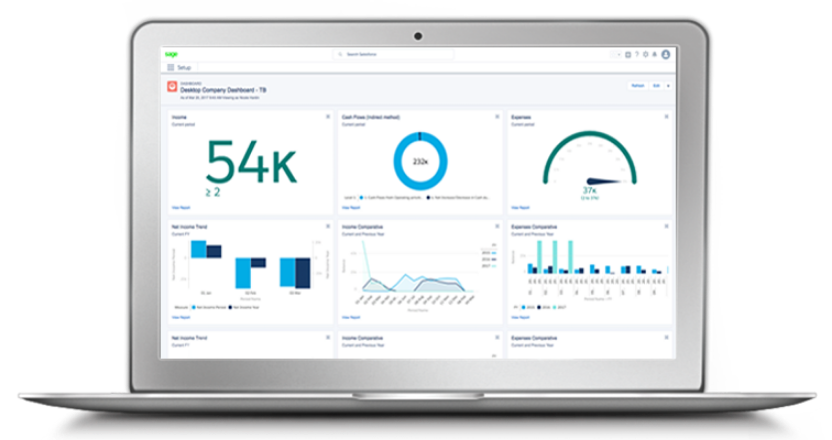 There's never been a better time to take the next step.
Ready to put Financials to the test? We'll be in touch to set up a hands on demo at your convenience. In the meantime, you can learn more here.
Learn more
Back